Less than a week from today, Guild Launch will present the first ever Dragon Slayer awards. As we've said all along, anyone can make top ten list or identify the "Title of the Year". The purpose of the Dragon Slayer Award is to recognize the studios and teams that not only put out great games, but invest in the communities that develop around them and give back to the player base that determines their success.
After all, at Guild Launch, building and serving strong communities is at the very core of the service we provide.
In an effort to be a truly community-focused award, we also wanted to honor the individuals whose contributions may not be the games themselves, but rather the projects that make it great and fun to be a gamer. These are the artists & the actors, the creators and personalities. The Dragon Slayer Awards provide a unique opportunity for the many that would otherwise go unrecognized to be known for their efforts.
We wouldn't dare combine such a rare chance to pay homage to the people who make our industry great with some generic plaque. For the first time, we're ready to show you the Dragon Slayer Award trophies.  These little works of art are themselves a product of the community, created by British sculptor Kerry Dyer who was recommended to us by Mike Bithell, a game designer at UK-based Bossa Studios. One of our aims was to create a trophy worthy of the competition, a token that winners would proudly display on their desks or in their offices, a statue that inspires creativity and as well as a sense of appreciation for a job well done.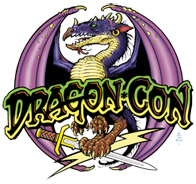 The Dragon Slayer Awards will be presented live at Dragon*Con on Sunday, September 2nd at 530pm in the Sheraton – Capitol Ballroom. We look forward to sharing these awards with the winners. Congratulations again to our very deserving nominees and thanks to everyone who has cast their vote.